The Reproduction of Floral Arrangements in Paper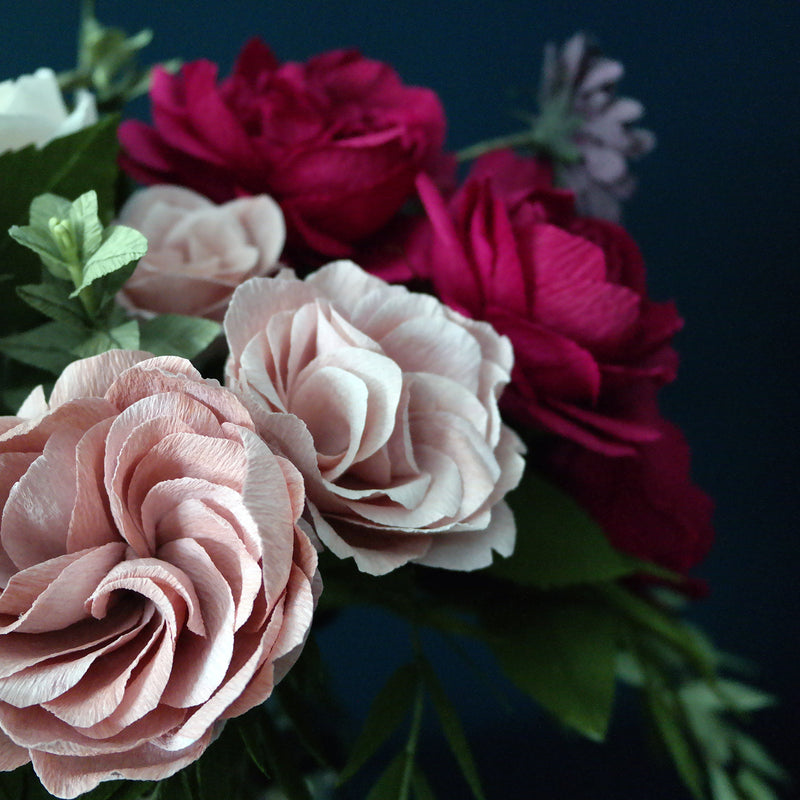 Paper flowers are on trend.  I have seen this myself in spades since I began my journey into this artistry.  When I consider why brides and decoristas are turning to faux florals, I think I have the answer.  Its a renaissance.  A returning to the notion that with all of the conveniences that life can offer close at hand, people want something special, something different, something with soul.
Yes, you can purchase faux flowers at your local HomeSense and fill your vases with an arrangement of your choosing, but for some, this still lacks heart.  The authenticity of giving and receiving flowers is special.  A moment to celebrate the gratitude you feel for the receiver, and the giver's experience of selecting just the right flowers in a thoughtful moment.
I believe the gift of paper flowers achieves the same experience.  The flowers I offer through BOUQ Paper Flowers are custom.  Each meticulously created for many hours, petal by petal, with intention and love, by me alone.  When I am forming the flowers, I am amused with the character and personality that each flower develops, no two ever the same.  The result is an arrangement you know was a labour of love, not mass produced or churned out.  One created by observing the characteristics that nature bestowed, little mysteries all dancing together in a ballet of colour and form.
Paper flowers have their place, their purpose.  Its an emerging art form that celebrates the art of capturing a little slice of life.  They are a celebration of what it means to be present, to notice, to observe the world around you.  The translation of flowers into paper is like cracking the code of nature.  Its a pursuit that brings just as much frustration as joy as an artist because the end result must embody the essence of the living specimen.
So why paper flowers? To savour the elegance of flowers around you for longer than nature will oblige.